2022 Christian Book Award (CBA) Winner for God is Able: A Study of 2 Corinthians 9:8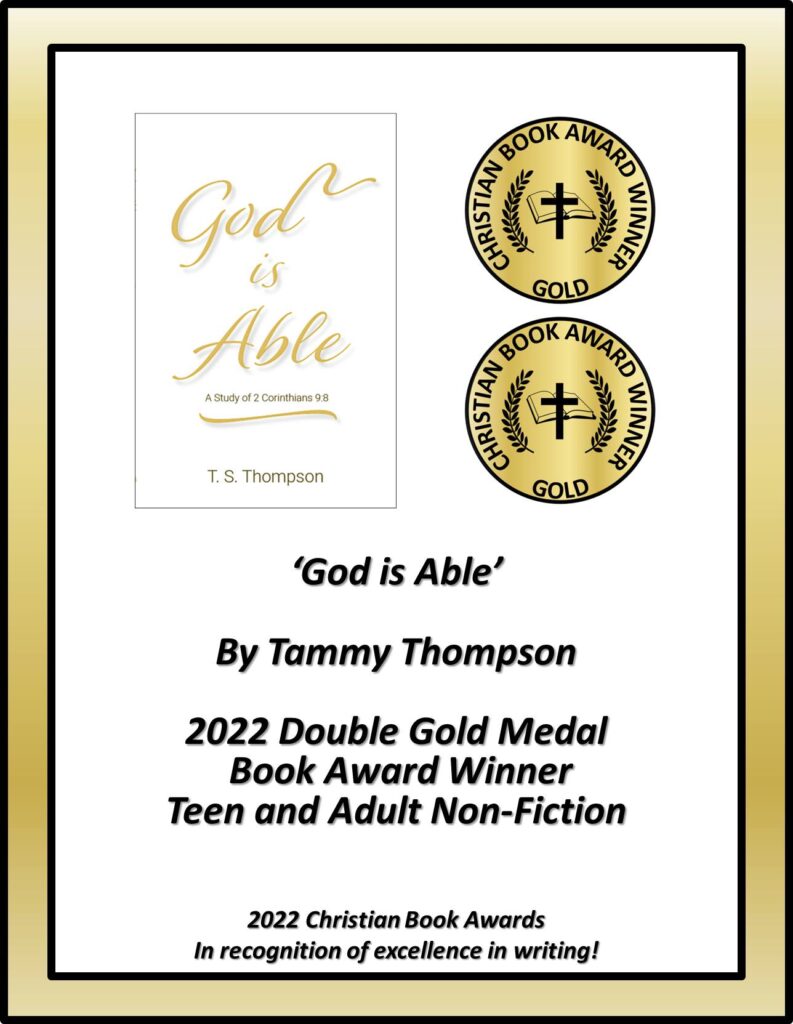 Congratulations 'God is Able' by Tammy Thompson, a 2022 Double Gold Medal Christian Book Award Winner in the category of 'Teen' and 'Adult Non-Fiction'! Please see attached the book cover with the Gold seals it was awarded for being a Double Gold Medal CBA winner! Would you like to know how you can receive God's good favor in such high quantities that you are able to stop worrying about your needs and problems, and begin helping others? This is a Bible study based on 2 Corinthians 9:8 which reads 'And God is able to make all grace abound toward you; that ye, always having all sufficiency in all things, may abound to every good work'. Tammy Thompson's in depth study of 2 Corinthians 9:8 teaches us that God is able to provide His grace in all areas of your life including health, finances, talents, jobs, love, time, possessions, faith, and courage! Through Tammy Thompson's study you will see how God is able help you in all these areas and more! Tammy Thompson's writing style is clear and concise and makes it easy for students to understand exactly what she is trying to get across. The best part of the book is that it is perfect for a weekly Bible study because it breaks down the teaching into 19 right-sized chapters so a group can get together over multiple months and discuss lessons as they come up. This award-winning study is excellent in helping Christians understand this important verse! We recommend that every church and library should have a copy of this book for its members to read, and every Teen and Adult should use it to gain the valuable wisdom that Tammy Thompson shares!
You can order a hard copy of this book on Amazon at this link: https://www.amazon.com/God-Able-Corinthians-T-Thompson/dp/1732718121/
You can order the kindle version on Amazon at this link: https://www.amazon.com/God-Able-Corinthians-T-Thompson-ebook/dp/B07W4FPGYR/
My book cover was awarded Best in Show at The Maryland Professional Photographers Association October 2018, print competition in the commercial category.